Catch the replay in the archives here.
Joy of Resistance
Thu, Nov 17, 2022 11:00 AM
THE ERASURE OF WOMEN AS A SEX CLASS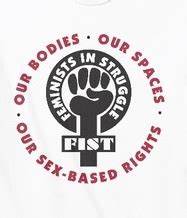 Ann Menasche will be a guest on Joy of Resistance, Multicultural Feminist Radio at WBAI, this Thursday, November 17, 11:00-11:55 AM Eastern Time (8:00 AM Pacific Time, 10:00 AM Central Time).  Ann will be interviewed by producer-host Fran Luck. The show can be heard at 99.5 FM in the Northeast tri-state area and streams at wbai.org (where it will also be archived).
This is an historic interview, as Ann will go public, for the first time on media, with the story of her having been recently fired from her job of 20 years of working as a progressive attorney, for asserting that abortion bans hurt women as a sex.
Ann will discuss the implications of being fired for this reason, why the concepts of 'woman' and "women as a sex-class" are necessary gain our liberation as women; what conflicts of interest—and language–exist between gender ideology and feminism, the effects of gender ideology on lesbianism as well as why these topics must be discussed publicly without fear of retaliation.
There have been other cases of feminists losing their jobs for expressing that sex exists and that women's oppression is based on their sex-class status. In the UK, the case of Maya Forstater became well known on this side of the Atlantic, after she was fired for expressing in a tweet that she believed that people cannot change their sex, Forstater successfully challenged her firing as illegal and established that gender-critical views are a protected philosophical belief, under the U.K.'s Equality Act.
Ann will discuss the implications for free speech and expression of people being fired for holding different views from their employers'. She'll also discuss why the concepts of 'woman' and "women as a sex-class" are important to the women's movement and to feminist theory–and why it is essential to be able to name an oppression in order to fight it. We'll also discuss the difference between sex and gender, the effects of gender ideology on lesbianism–as well as why it is important, particularly in an area of thought in which there is so much change and ideas are so much in flux (just this past week, a New York Times article asserted that long-believed "truths" about the safety of giving puberty blockers to children are now being questioned).
Activists with different perspectives must be allowed to present their views without fear of retaliation so that the many raging debates about sex and gender, now going on across the world, can be settled through rational discussion. 
ANN MENASCHE ACTIVIST BIO
During the 1960's/70's Ann Menasche organized marches in upstate New York against the Vietnam War. In San Francisco, she organized anti-war marches against wars in the Iraq and Afghanistan. She helped organize the annual "Day In the Park" for Women's Rights in the 1970's/80's (focusing on ERA, abortion) and participated in abortion rights struggles before and after Roe, was in the leadership of the 30,000 strong March for Women's lives in the 1980's. She was a leader against the anti-gay Briggs Initiative in San Francisco in 1978, that sought to ban lesbians and gay people from working in the California public school system  (it was defeated.) She was a founding member and leader of the San Diego Alliance for Marriage Equality in 2008. She helped found Lesbian Uprising, a lesbian feminist organization which existed from 1980's into the 1990's.
Recently she founded "Feminists in Struggle" (FIST) and as a member of the Green Party, she helped found the Green Alliance for Sex-based Rights. She has also participated in several socialist groups.
In her work as an attorney:
She is currently the lead attorney in a class action against the City of San Diego challenging their ticketing of homeless people who shelter in vehicles. And she recently settled a case challenging city policy with regard to scooters blocking access, under the Americans with Disabilities Act. She has litigated race, familial status and disability discrimination in housing, sued a homeless shelter for discrimination based on disability and religion & won a favorable settlement that changed policy. Her most famous case involved a suit against a "fake clinic" –"Committee to Defend Reproductive Rights vs A Free Pregnancy Center" which won a judgment for consumer fraud. She has testified before a House subcommittee on fake clinics—and litigated police misconduct cases..